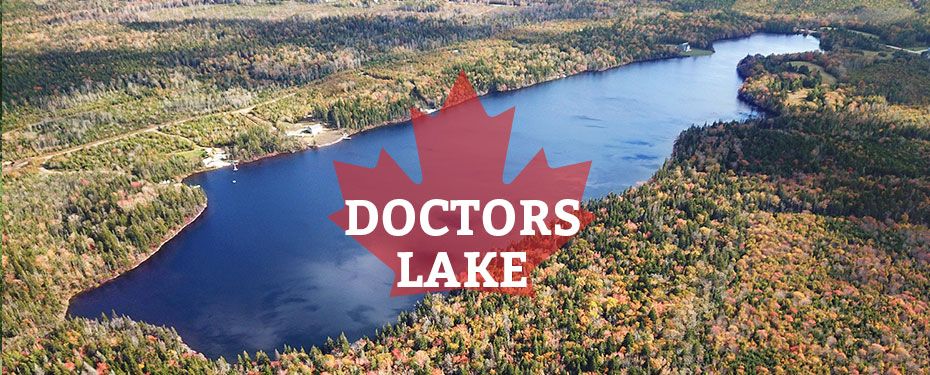 Doctors Lake is a Clearwater Lake and only 5 minutess from the ocean. The village is called Sprindale.
Power and street exist already. Due the western orientation you have beautiful sunsets. A year-round stay is possible due access to a public street. In Salmon River, 5 minutes away is a small grocery store.
In Yarmouth, 15 minutes away are big shopping mals. You will find a hospital and a ferry connection to America – Portland as well.
Measurement plan and overflight of the site of Doctors Lake
| Lot | Lakefront | m² | Price |
| --- | --- | --- | --- |
| 1 | 73m | 17.462 | sold |
| 2 | 83m | 14.552 | sold |
| 3 | 82m | 16.900 | sold |
| 4 | 100m | 16.200 | sold |
| 5 | 92m | 14.300 | sold |
| 6 | 77m | 12.700 | sold |
| 7 | 63m | 14.300 | sold |
| 8 | 61m | 13.500 | sold |
| 9 | 60m | 13.100 | sold |
| 10 | 63m | 12.400 | sold |
| 11 | 60m | 12.000 | sold |
| 12 | 60m | 12.100 | sold |
| 13 | 60m | 12.000 | sold |
| 14 | 60m | 11.700 | sold |
| 15 | 60m | 11.750 | sold |
| 16 | 62m | 11.500 | sold |
| 17 | 64m | 10.850 | sold |
| 18 | | 7.004 | sold |
| 19 | | 22.244 | sold |
| 20 | 96m | 29.503 | sold |
Here is a piture gallery compiled of numerous impressions of the property:
View this area on Google Maps: